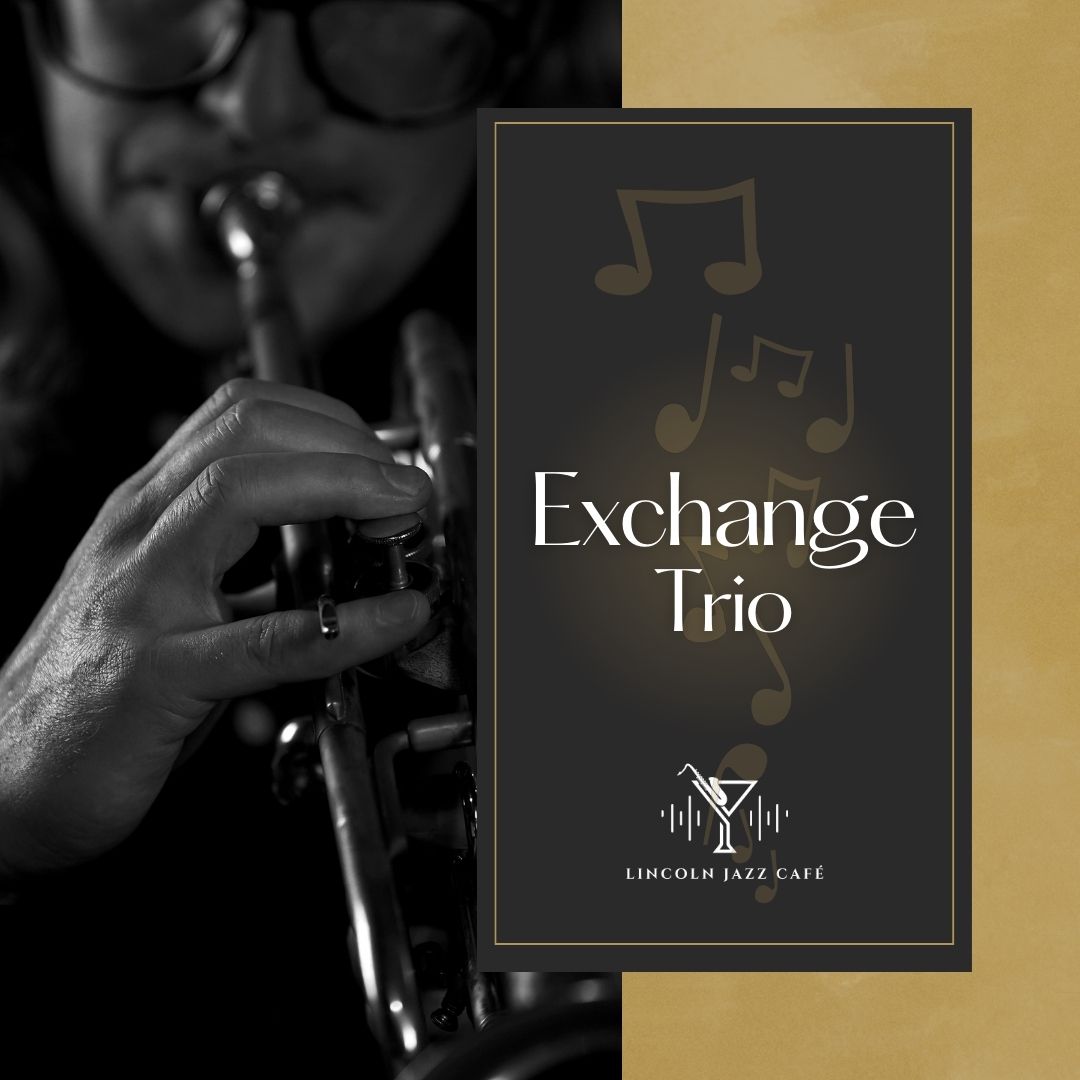 Exchange Trio
Lincoln Jazz Café proudly present the extraordinary Exchange Trio.
Hailing from the vibrant jazz scene of Leeds and Bradford, the Exchange Trio is a band of exceptionally talented jazz brothers, united by their passion for music and their diverse musical backgrounds. Together, they weave a tapestry of enchanting improvisations, drawing inspiration from legendary jazz icons such as Miles Davis, Kenny Werner, Tom Harrell, Blue Mitchell, Thelonious Monk, Victor Lewis, and many more.
Prepare to be captivated as they transport you through a spectrum of jazz styles, effortlessly merging classic and contemporary influences. With their masterful performances, the Exchange Trio flawlessly intertwines the timeless elegance of jazz standards with their own original compositions and breathtaking arrangements. Every note, every chord, and every rhythm will leave you spellbound.
The musical journey begins with the incomparable Will Powell, on guitar. Complementing the melodies is the soulful mastery of José Canha on bass. And then, adding a touch of brilliance to the ensemble is Toby Brazier on trumpet, infusing each performance with his dynamic range and melodic ingenuity.
Prepare yourself for an evening that will stir your senses, as you sip on handcrafted cocktails meticulously prepared by our expert mixologists, and indulge in a selection of the finest wines to accompany this remarkable musical experience.
Don't miss out on this unique opportunity to witness the Exchange Trio in all their glory. Be part of a memorable evening that will transport you to the golden era of jazz while embracing the innovation of the present. Secure your tickets now and join us for an extraordinary fusion of superb music, refined libations, and an ambience that will leave an indelible mark on your soul.
Save the date: Sunday, 23rd July 2023, 6-8.15 pm. Doors open at 5 pm. Please arrive by 5.30 pm. (All tickets are non-refundable and non-exchangeable)
AT CHECKOUT:
Experience the ultimate convenience at checkout with the ability to add our delectable ANTIPASTI PLATTERS, supplied by our esteemed partner in bespoke catering. Indulge in locally sourced and homemade food, crafted with the freshest ingredients and beautifully presented.
Don't forget to PRE-ORDER your Fine Wine and Champagne selections at checkout to enjoy a delightful 10% DISCOUNT, perfectly complementing our Antipasti platters. Make your event truly special with these premium options.
Ensure you pre-order your desired Antipasti platters, Fine Wine, and Champagne AT LEAST 48 HOURS PRIOR to your event. Happy shopping and let us provide you with an unforgettable experience!