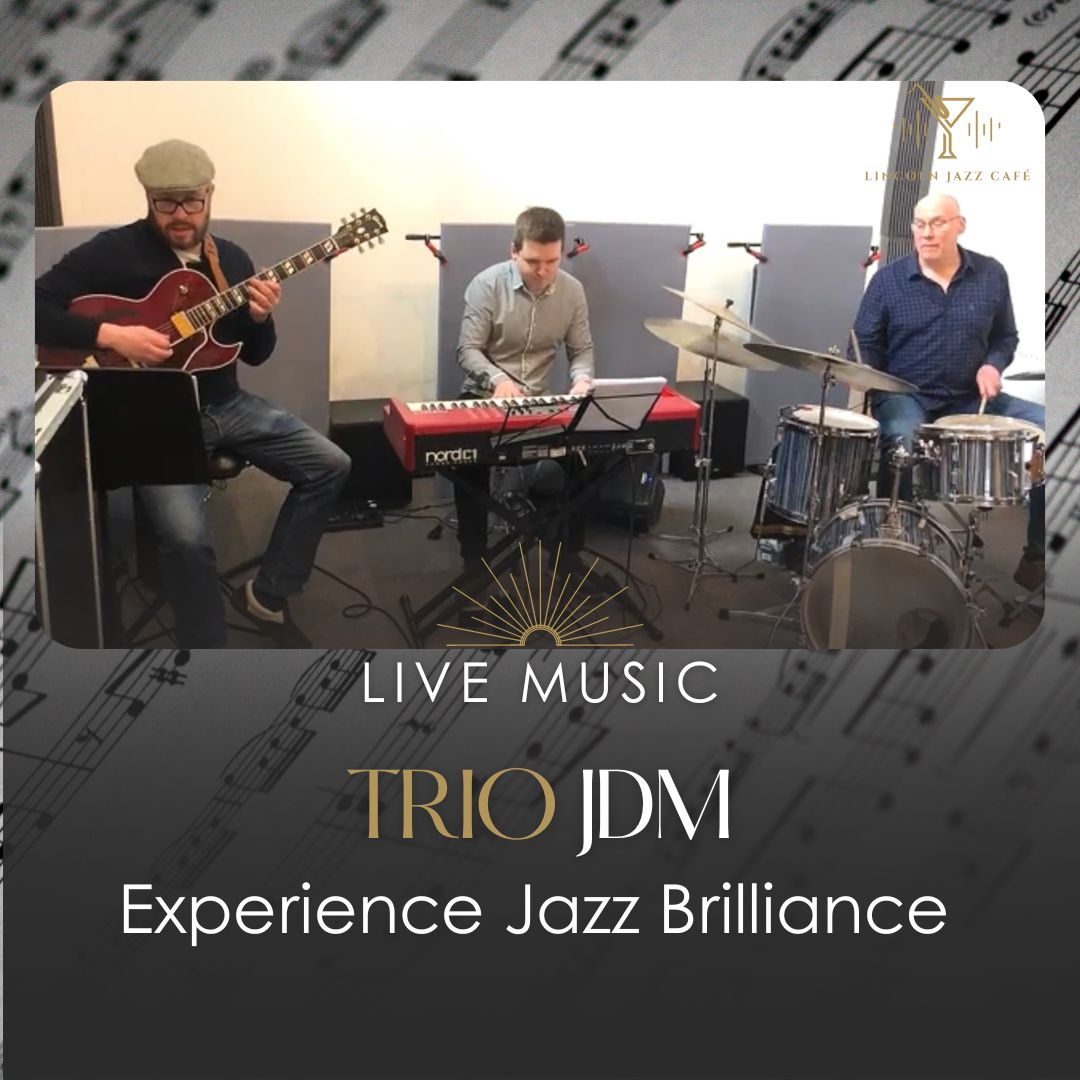 Trio JDM – Sun, 26th Nov
Live Jazz Music
Experience a night of unparalleled musical mastery at the Lincoln Jazz Café this November! Trio JDM, led by the illustrious Dave Walsh, promises a performance that transcends boundaries. Renowned for his exceptional drumming skills, Walsh has graced stages with jazz legends, celebrated singer-songwriters, and chart-topping pop sensations.
Jamie Taylor, the 'J' in this exceptional trio, brings his seasoned guitar prowess to the forefront. Hailing from Yorkshire but with a heart deeply rooted in the bop tradition, Taylor's performances at iconic venues like Ronnie Scott's and The Troubadour are not to be missed.
Completing this powerhouse lineup is the extraordinary Martin Longhawn, a virtuoso at the console. With a reputation forged alongside the esteemed Svarc/Hanley/Longhawn group, Longhawn's command of piano and organ is nothing short of awe-inspiring.
Drawing inspiration from the likes of Jimmy Smith and Larry Young, Trio JDM weaves a musical tapestry that pays homage to the jazz greats while seamlessly incorporating original compositions. This is not a tribute act; it's a unique musical journey through time and genre.
Don't miss this extraordinary night of jazz fusion and innovation. Secure your tickets now for an experience that will leave you spellbound! Grab your seats and let the music transport you. Hurry, tickets are selling fast!
Save the date: Sunday, 26th November 2023, 6-8.15 pm. Doors open at 5 pm. Please arrive by 5.30 pm. (All tickets are non-refundable and non-exchangeable)
AT CHECKOUT:
Experience the ultimate convenience at checkout with the ability to add our delectable ANTIPASTI PLATTERS, supplied by our esteemed partner in bespoke catering. Indulge in locally sourced and homemade food, crafted with the freshest ingredients and beautifully presented.
Don't forget to PRE-ORDER your Fine Wine and Champagne selections at checkout to enjoy a delightful 10% DISCOUNT, perfectly complementing our Antipasti platters. Make your event truly special with these premium options.
Ensure you pre-order your desired Antipasti platters, Fine Wine, and Champagne AT LEAST 48 HOURS PRIOR to your event. Happy shopping and let us provide you with an unforgettable experience!