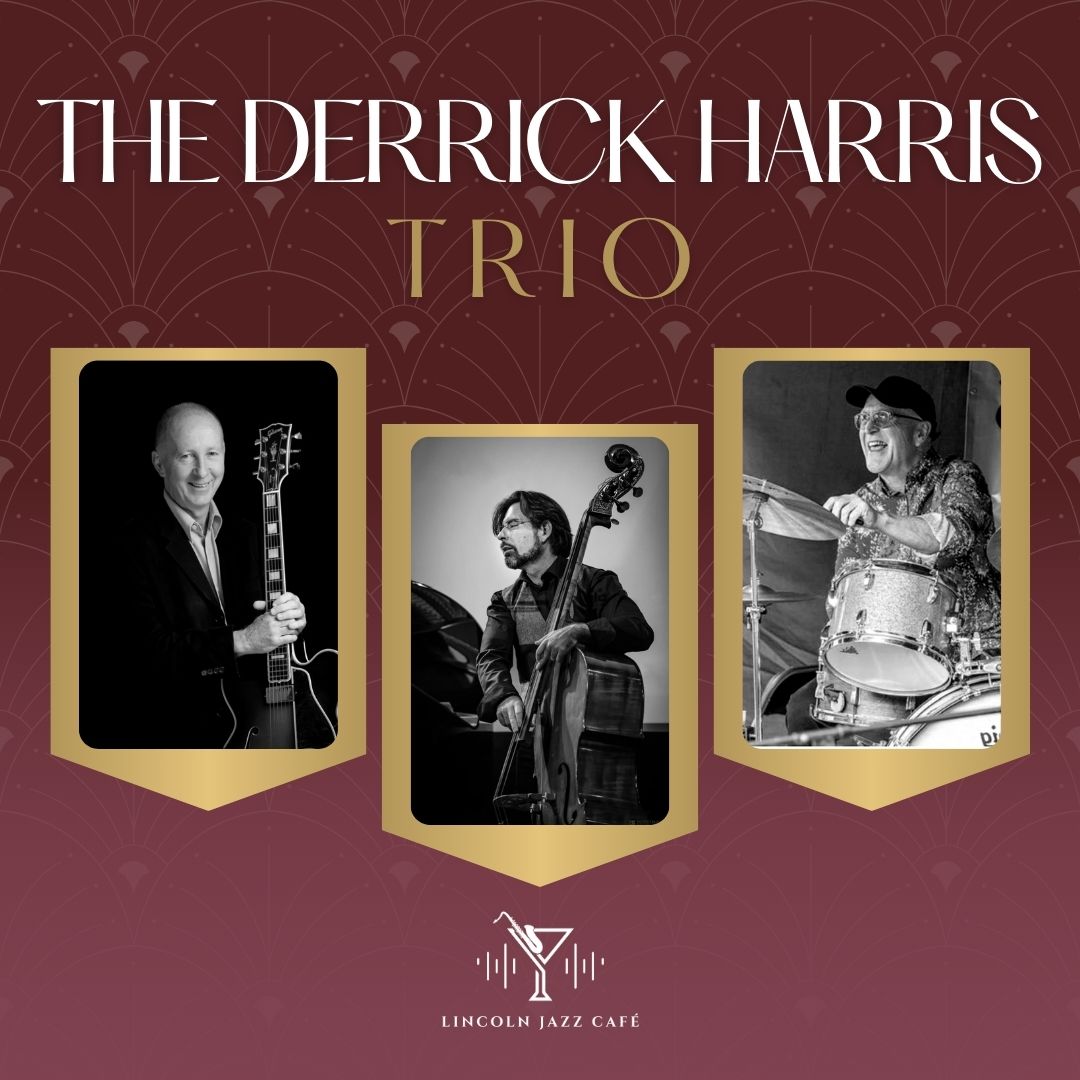 The Derrick Harris Trio – Sun, 3rd Dec, 3.30pm – CHRISTMAS SPECIAL
Experience the Brilliance of the Derrick Harris Trio!
Get ready to immerse yourself in a night of exceptional jazz as the Derrick Harris Trio takes to the stage once again. Join us for an intimate evening of music that promises to be nothing short of extraordinary.
🎸 Derrick Harris – Guitar Virtuoso Extraordinaire
Derrick Harris stands as a luminous figure in the realm of jazz, celebrated for his mastery of the guitar. With a career steeped in rich musical experience, Derrick's virtuosity is nothing short of extraordinary. His intricate command of the instrument has graced both radio and television, captivating audiences with every note. Notably, Derrick has shared the stage with renowned orchestras such as the Halle and the Royal Liverpool Philharmonic, showcasing his versatility and skill in diverse musical settings. As a composer and band leader, Derrick's contributions have resonated throughout the industry, solidifying his position as a true luminary in the world of jazz.
🎻 José Canha – The Maestro of the Double Bass
Portuguese-born José Canha is a maestro of the double bass, renowned for his elegantly crafted and resonant basslines. His musical journey began in his late teens, and since then, he has dedicated his life to mastering the intricacies of the double bass in the genres of blues and jazz. José's profound understanding of the instrument has earned him accolades both in his homeland and abroad. Co-founding the illustrious "Charlie & the BluesCats," José led the band to support the legendary B.B. King on two momentous occasions. His academic pursuits further underscore his dedication, with formal studies in classical music and an ongoing pursuit of a Master's Degree in Jazz Music performance at the London College of Music/University of West London. José's meticulous attention to detail and boundless passion for jazz promise an unforgettable performance.
🥁 Paul Smith – The Rhythmic Wizard
A drumming wizard of unparalleled skill, Paul Smith is an integral force within the Derrick Harris Trio. Not only does he bring a wealth of experience to the ensemble, but he also takes on the role of organising one of the most successful venues in the North, The Head of Steam in Huddersfield. Paul's versatility as a drummer is evident in his collaborations with an eclectic mix of bands and artists. Noteworthy performances include appearances with luminaries such as Alan Barnes and The Andy Cholerton Trio, as well as his role in The Derrick Harris Quartet. His rhythmic finesse and intuitive understanding of the music make him an invaluable component of this dynamic trio.
With these remarkable individuals at the helm, the Derrick Harris Trio promises an evening of music that transcends boundaries and leaves an indelible mark on the hearts of every listener. Don't miss out on the opportunity to witness their collective brilliance firsthand!
*Please keep in mind that 3.30 pm start is the first performance of the day. We kindly request that you graciously vacate your table by 6.15 pm, as we need to prepare for the second performance. Your understanding and cooperation in making this enchanting evening seamless for all attendees is greatly appreciated.
Save the date: Sunday, 3rd December 2023, 3.30 pm. Doors open at 2.30 pm. Please arrive by 3 pm.
AT CHECKOUT:
Experience the ultimate convenience at checkout with the ability to add our delectable ANTIPASTI PLATTERS, supplied by our esteemed partner in bespoke catering. Indulge in locally sourced and homemade food, crafted with the freshest ingredients and beautifully presented.
Don't forget to PRE-ORDER your Fine Wine and Champagne selections at checkout to enjoy a delightful 10% DISCOUNT, perfectly complementing our Antipasti platters. Make your event truly special with these premium options.
Ensure you pre-order your desired Antipasti platters, Fine Wine, and Champagne AT LEAST 48 HOURS PRIOR to your event. Happy shopping and let us provide you with an unforgettable experience!