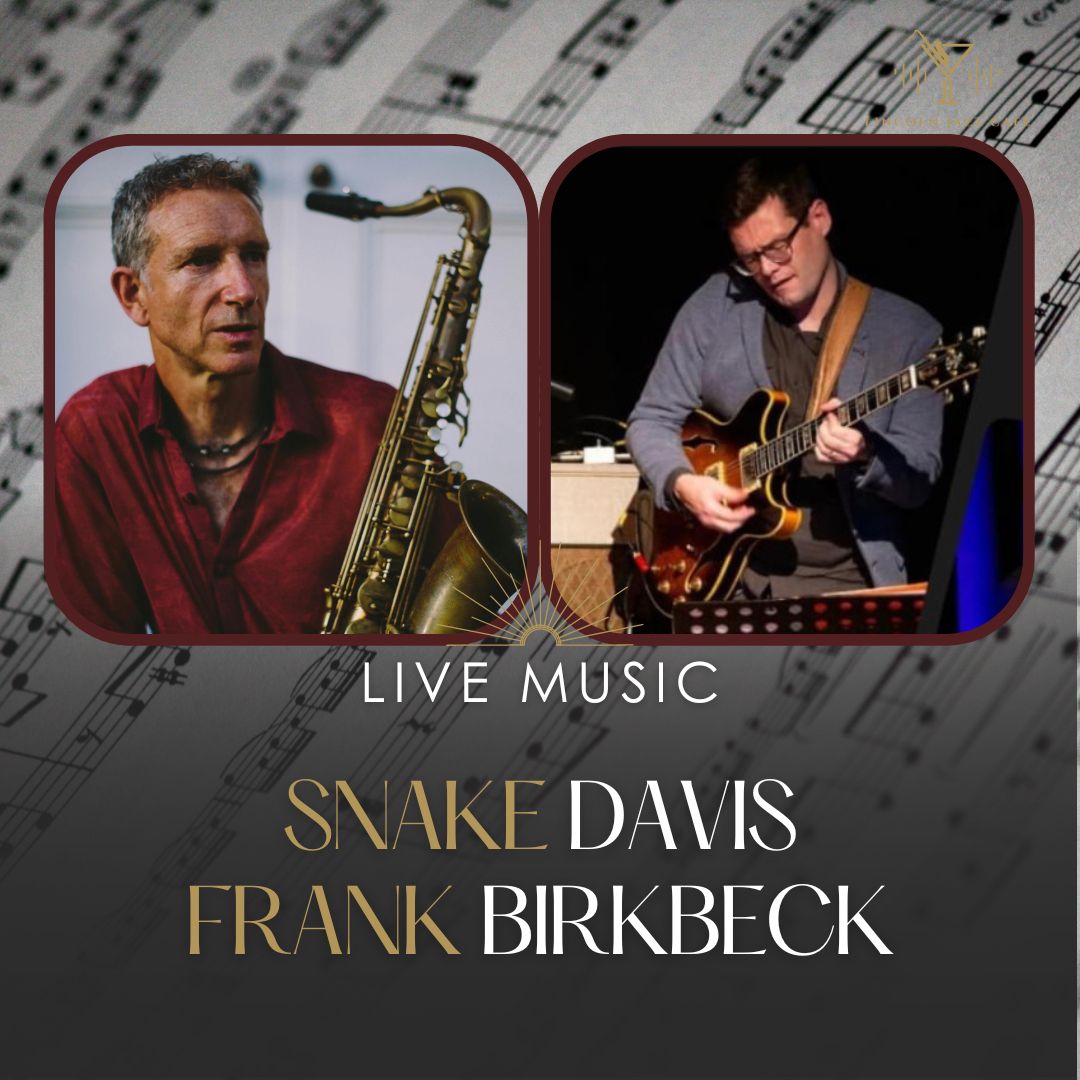 Snake Davis / Frank Birkbeck Jazz Duo – Thu, 31st Aug
Join us for an unforgettable celebration of the last day of summer with this extraordinary jazz duo. Get ready for a truly extraordinary evening of music with the sensational duo act: Snake Davis and Frank Birkbeck. Prepare to be captivated by their exceptional talent and mesmerising performances, as they take the stage for a show that promises to be a night to remember.
Snake Davis, an extraordinary saxophonist, has spent three decades enchanting audiences around the world. From his humble beginnings at Leeds College of Music to sharing the spotlight with some of the biggest names in the industry, Snake's journey is as awe-inspiring as his music. He has recorded over 400 tracks for more than 60 artists, toured with Lisa Stansfield, and even embarked on a world tour with The Eurythmics. His saxophone solos have graced the airwaves and television screens, making him a true icon in the world of music. Prepare to be transported by Snake Davis, the master of soulful melodies and impeccable artistry. With his mastery of the soprano, alto, tenor, and baritone saxes, Shakuhachi, flutes, whistles, and vocals, Snake Davis will captivate you with his exceptional talent. His expertise and versatility are bound to leave you in awe.
Joining Snake on stage is the immensely talented Frank Birkbeck, a professional guitarist and multi-instrumentalist. With over a decade of experience as a full-time musician, Frank's musical prowess knows no bounds. His deep passion for various genres has led him to perform at renowned venues such as Ronnie Scott's, Matt and Phreds, and the Theatre Royal. As the leader of the highly sought-after jazz group, The Frank Birkbeck Group, he has established himself as a master of his craft, captivating audiences with his impeccable skills and versatility.
Together, Snake Davis and Frank Birkbeck create a musical synergy that is simply magical. Their powerful collaboration blends Snake's soulful saxophone melodies with Frank's exceptional guitar artistry, resulting in a mesmerizing fusion of jazz and pure musical brilliance. This is a rare opportunity to witness two virtuosic musicians sharing the stage, weaving their musical tapestry and creating an unforgettable experience.
Don't miss this extraordinary event, as Snake Davis and Frank Birkbeck grace Lincoln Jazz Café with their immense talent, transporting you to a world of exquisite melodies and breathtaking performances. Whether you are a die-hard fan or a lover of exceptional music, this is an evening that promises to be truly special. Secure your tickets now and prepare to be swept away by the enchanting harmonies and sheer brilliance of Snake Davis and Frank Birkbeck.
Save the date: Thursday, 31st August 2023, 7.30-9.45 pm. Doors open at 6 pm. Please arrive by 7 pm. (All tickets are non-refundable and non-exchangeable)
AT CHECKOUT:
Experience the ultimate convenience at checkout with the ability to add our delectable ANTIPASTI PLATTERS, supplied by our esteemed partner in bespoke catering. Indulge in locally sourced and homemade food, crafted with the freshest ingredients and beautifully presented.
Don't forget to PRE-ORDER your Fine Wine and Champagne selections at checkout to enjoy a delightful 10% DISCOUNT, perfectly complementing our Antipasti platters. Make your event truly special with these premium options.
Ensure you pre-order your desired Antipasti platters, Fine Wine, and Champagne AT LEAST 48 HOURS PRIOR to your event. Happy shopping and let us provide you with an unforgettable experience!
Sold out!