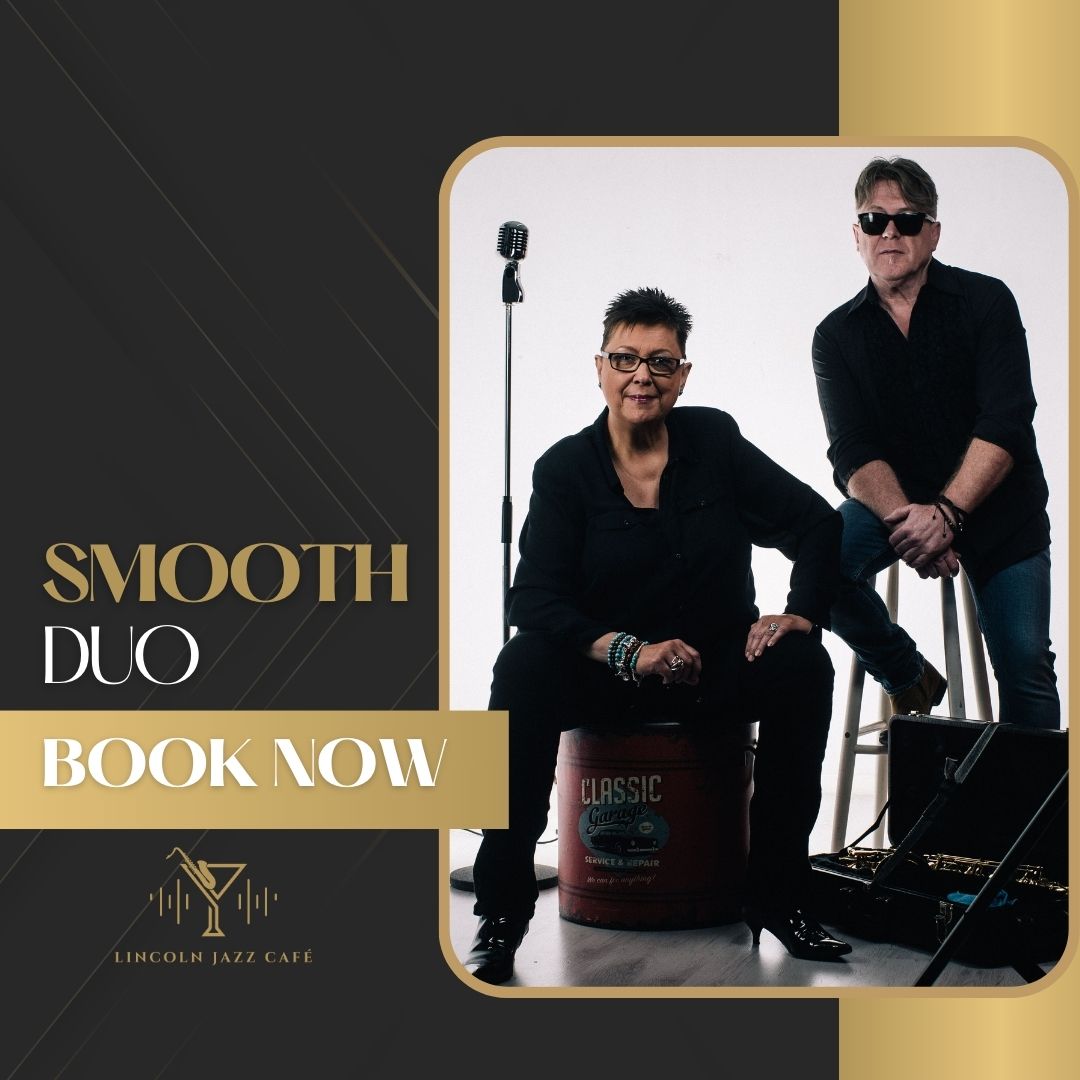 Smooth Duo – Sun, 21st Jan
🎶 Introducing the Smooth Duo: An Unforgettable Night of Live Jazz Magic! 🎶
Indulge your senses in a musical experience like no other, as the Smooth Duo graces the stage at the Lincoln Jazz Cafe. This dynamic ensemble is more than just a duo; it's a fusion of talents that promise an evening of pure musical delight.
Picture the sultry notes of an alto sax, the rhythmic heartbeat of Latin percussion, the soulful wail of a blues harmonica, and the unmistakable resonance of Andy's renowned bongo drums. Blend in the jazzy embrace of organ, vibes, and piano keys, and you have a concoction of sound that's been likened to a perfectly mixed, smooth and mellow cocktail of music.
Adding a cherry on top is Susie's enchanting contralto voice, a treasure trove of richness and warmth that has earned comparisons to jazz legends like Peggy Lee, Ella Fitzgerald, and Cleo Laine. Her vocals will gently caress your senses, ensuring a night of relaxation and chill vibes.
Rest assured, you'll be able to savour every note in a treasure trove of classics, curated to cater to a diverse array of jazz musical tastes.
The Smooth Duo is no stranger to the big stage, having shared their musical prowess with some of the brightest stars in the industry. They were handpicked by ITV to serenade the 50th Anniversary live episode of the iconic Coronation Street, setting the tone for a historic celebration at the Granada TV studios. They've also played for the cast and crew of ITV's Emmerdale at their exclusive events.
These seasoned musicians have had the honour of opening for an illustrious roster of performers including Jimmy, Merrill & Jay of The Osmonds, Lulu, Billy Ocean, Russell Watson, Darren Day, Joe Longthorne, Toyah, Jason Donovan, Lance Ellington from Strictly Come Dancing, and the legendary Ken Dodd. Their talents have graced the stage as the opening act for the Royal London Philharmonic Concert Orchestra and the National Symphony Orchestra on multiple occasions.
Join us for a night of musical enchantment, where the Smooth Duo promises to transport you to a realm of timeless melodies and captivating rhythms. Secure your spot for an evening that promises to linger in your heart long after the last note fades away. This is an experience you won't want to miss! 🎵🌟
Save the date: Sunday, 21st January 2024, 6-8 pm. Doors open at 5 pm. Please arrive by 5.30 pm. (All tickets are non-refundable and non-exchangeable)
AT CHECKOUT:
Experience the ultimate convenience at checkout with the ability to add our delectable ANTIPASTI PLATTERS, supplied by our esteemed partner in bespoke catering. Indulge in locally sourced and homemade food, crafted with the freshest ingredients and beautifully presented.
Don't forget to PRE-ORDER your Fine Wine and Champagne selections at checkout to enjoy a delightful 10% DISCOUNT, perfectly complementing our Antipasti platters. Make your event truly special with these premium options.
Ensure you pre-order your desired Antipasti platters, Fine Wine, and Champagne AT LEAST 48 HOURS PRIOR to your event. Happy shopping and let us provide you with an unforgettable experience!