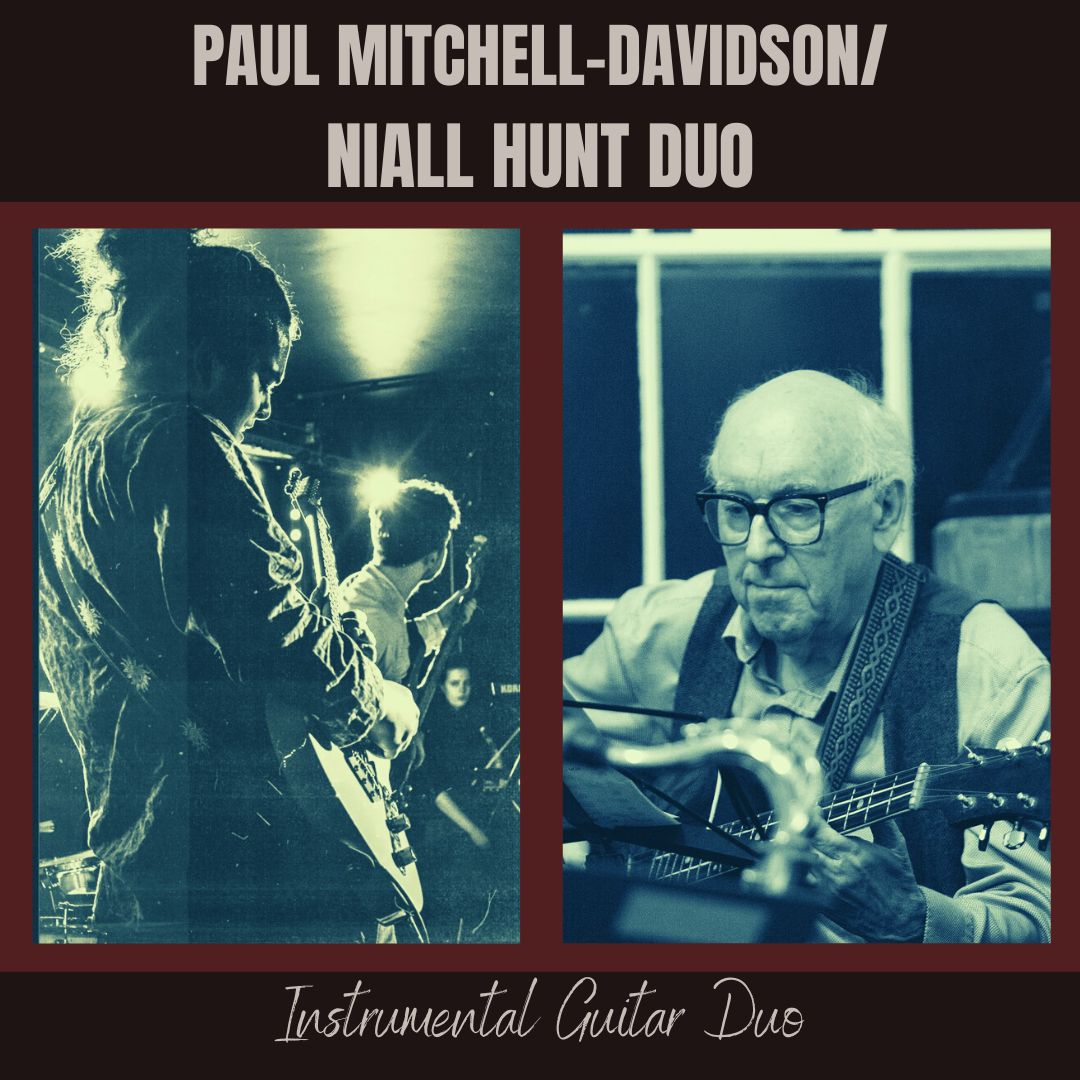 Paul Mitchell-Davidson / Niall Hunt Duo – Sun, 17th Sep
Are you ready for an unforgettable musical experience? Look no further! Paul Mitchell-Davidson, a renowned composer and guitarist, and Niall Hunt, a talented guitarist and session musician, are joining forces for a live performance you won't forget.
Paul has had a long and illustrious career in the contemporary classical and jazz music scene, producing a diverse range of works including orchestral, choral, film and television music. He has also performed with some of the biggest names in the industry, including Art Farmer, Jimmy Witherspoon, Eddie'Lockjaw' Davis, Gene Connors, Pete King, Dick Morrisey and many others.
Niall, on the other hand, has established himself as a solo jazz, blues and classical artist and works as a rhythm guitarist with the energetic 9-piece funk band, George and the Jungle.
The duo met at the Liverpool Institute of Performing Arts, where Paul was a tutor and lecturer and Niall a student. Now, they are coming together to create a unique and captivating performance, combining their talents and playing an eclectic mix of both jazz standards and original tunes.
Their performance will showcase their thoughtful, lyrical and melodic playing, bringing together Paul's extensive experience and Niall's energetic vibe. With a blend of contemporary classical and jazz, this is a show you won't want to miss.
So, gather your friends and family, and come enjoy an evening of unparalleled music and entertainment. This is a rare opportunity to see two of the most talented musicians in the contemporary classical and jazz scene, performing together for the first time.
Get your tickets now and be ready to be transported to a world of beautiful melodies, stunning compositions, and soulful playing. Don't miss out on this once-in-a-lifetime experience!
Save the date: Sunday, 17th September 2023, 6-8.15 pm. Doors open at 5 pm. Please arrive by 5.30 pm. (all tickets are non-refundable and non-exchangeable)
AT CHECKOUT:
Experience the ultimate convenience at checkout with the ability to add our delectable ANTIPASTI PLATTERS, supplied by our esteemed partner in bespoke catering. Indulge in locally sourced and homemade food, crafted with the freshest ingredients and beautifully presented.
Don't forget to PRE-ORDER your Fine Wine and Champagne selections at checkout to enjoy a delightful 10% DISCOUNT, perfectly complementing our Antipasti platters. Make your event truly special with these premium options.
Ensure you pre-order your desired Antipasti platters, Fine Wine, and Champagne AT LEAST 48 HOURS PRIOR to your event. Happy shopping and let us provide you with an unforgettable experience!