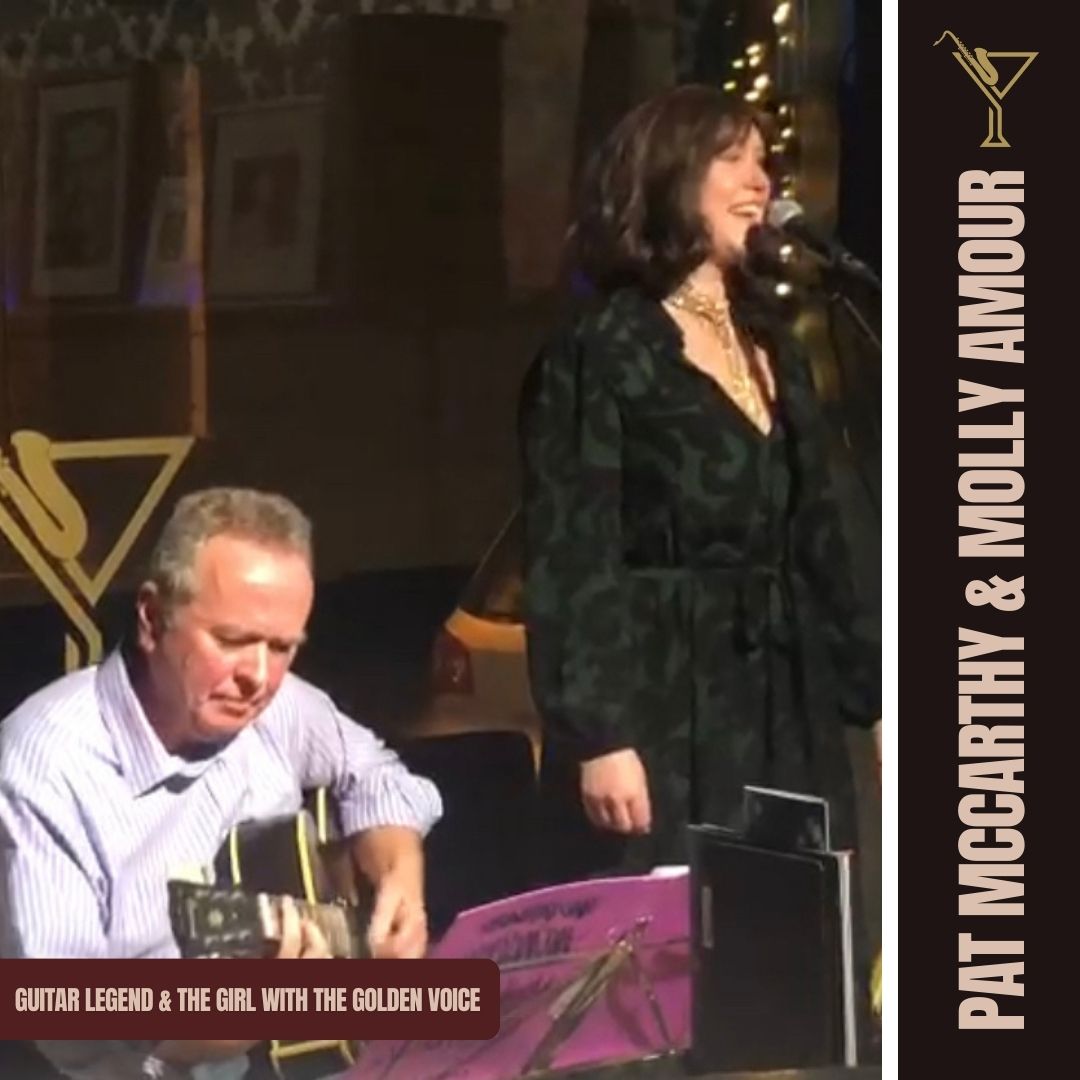 Pat McCarthy and Molly Amour Duo – Sun, 18th Feb – VALENTINE'S DAY SPECIAL
Pat is regarded as one of the country's leading jazz guitar players
He has also written and recorded music for The Pat McCarthy Quartet, The Shannon Reilly Band, The Alan Barnes Octet amongst others, plus music for TV and film. His compositions have been played as far afield as New York and Japan.
" World Class " – Humphrey Lyttleton
"I have been a pro player since 1981, and had the great good fortune to play with some of the UK's top musicians, plus a handful of visiting Americans including the following: Alan Barnes, Dave Newton, Jim Mullen, Gareth Williams, John Horler, Nikki Iles, Pete King, Andy Cleyndert, Martin Shaw, Kenny Wheeler, Snake Davis, Andy Sheppard, Art Van Damme, Aaron Weinstein, Tim Kliphuis, The British Allstars, Roy Williams, Georgia Mancio, Liz Fletcher, Tina May, Gilad Atzmon, George Melly, Roger Beaujolais, Jim Hart, Brian Dee, Bobby Worth, Krzysztof Urbanski, Bruce Adams, Digby Fairweather, Steve Brown, Dave Green, Enrico Tommaso, The London Mozart Players, Dennis Rollins,(MBE) The RAF Bigband etc, etc – plus many others that I can't remember"
Molly Amour is a jazz singer of love songs
Molly has been surrounded by song and sung along with a family of talent including 1940's big band crooner Grandad and a Grandmother who was a 1930's musical theatre singer.
Molly attended the Loire Vocal Jazz summer school with Tina May and has learned from workshops with Anita Wardell and Liane Carroll. Based in Lincolnshire, Molly Amour performs jazz standards with various musicians including gypsy swing group The Hot Club of Lincoln.
Save the date: Sunday, 18th February 2024, 6-8 pm. Doors open at 5 pm. Please arrive by 5.30 pm. (All tickets are non-refundable and non-exchangeable)
AT CHECKOUT:
Experience the ultimate convenience at checkout with the ability to add our delectable ANTIPASTI PLATTERS, supplied by our esteemed partner in bespoke catering. Indulge in locally sourced and homemade food, crafted with the freshest ingredients and beautifully presented.
Don't forget to PRE-ORDER your Fine Wine and Champagne selections at checkout to enjoy a delightful 10% DISCOUNT, perfectly complementing our Antipasti platters. Make your event truly special with these premium options.
Ensure you pre-order your desired Antipasti platters, Fine Wine, and Champagne AT LEAST 48 HOURS PRIOR to your event. Happy shopping and let us provide you with an unforgettable experience!