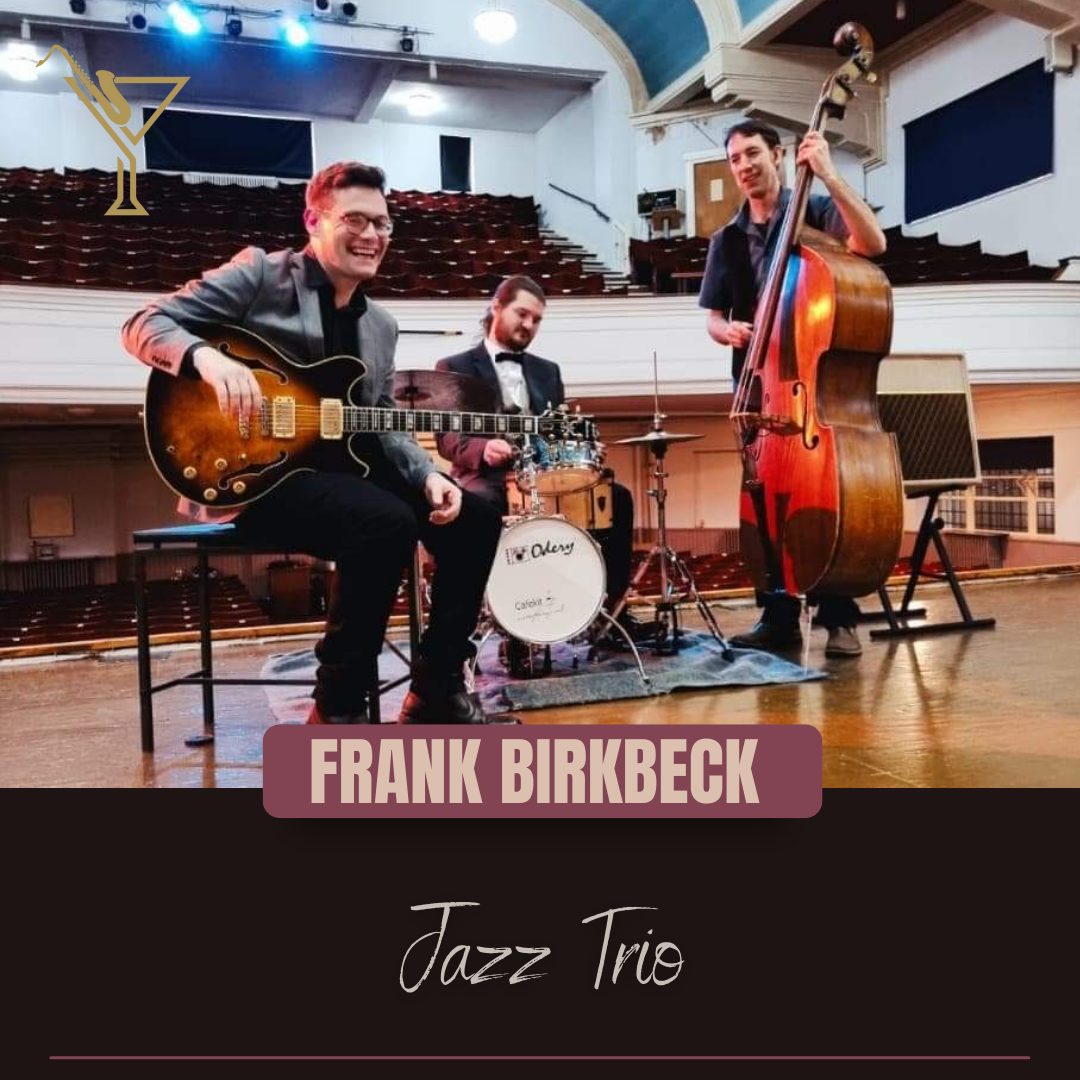 Frank Birkbeck Jazz Trio – Sun, 4th Feb
Looking for an electrifying jazz experience that will blow you away? Look no further than the incredible Frank Birkbeck, the Lincolnshire-based guitarist and multi-instrumentalist extraordinaire!
With over a decade of full-time music-making under his belt, Frank is a true master of his craft. His eclectic taste in music has seen him involved in a wide range of bands and projects, but his latest endeavour is possibly his most exciting yet: leading the renowned 'Frank Birkbeck Group', the most in-demand jazz group in Lincolnshire. Featuring the incredible talents of Chris Creed and Neil Robertson, this trio has become a beloved fixture on the UK jazz scene.
SELL-OUT SHOW GUARANTEED! Catch The Frank Birkbeck Jazz Trio LIVE at the Lincoln Jazz Café on Sunday, 6 pm.
Frank, Neil, and Chris are ready to entertain as you sip on one of our popular signature cocktails and enjoy an unforgettable evening of swing, Latin, rock, and modern pop. £15 a ticket for a priceless, once-in-a-lifetime experience. BOOK NOW!
Save the date: Sunday, 4th February 2024, 6-8.15 pm. Doors open at 5 pm. Please arrive by 5.30 pm. (All tickets are non-refundable and non-exchangeable)
AT CHECKOUT:
Experience the ultimate convenience at checkout with the ability to add our delectable ANTIPASTI PLATTERS, supplied by our esteemed partner in bespoke catering. Indulge in locally sourced and homemade food, crafted with the freshest ingredients and beautifully presented.
Don't forget to PRE-ORDER your Fine Wine and Champagne selections at checkout to enjoy a delightful 10% DISCOUNT, perfectly complementing our Antipasti platters. Make your event truly special with these premium options.
Ensure you pre-order your desired Antipasti platters, Fine Wine, and Champagne AT LEAST 48 HOURS PRIOR to your event. Happy shopping and let us provide you with an unforgettable experience!