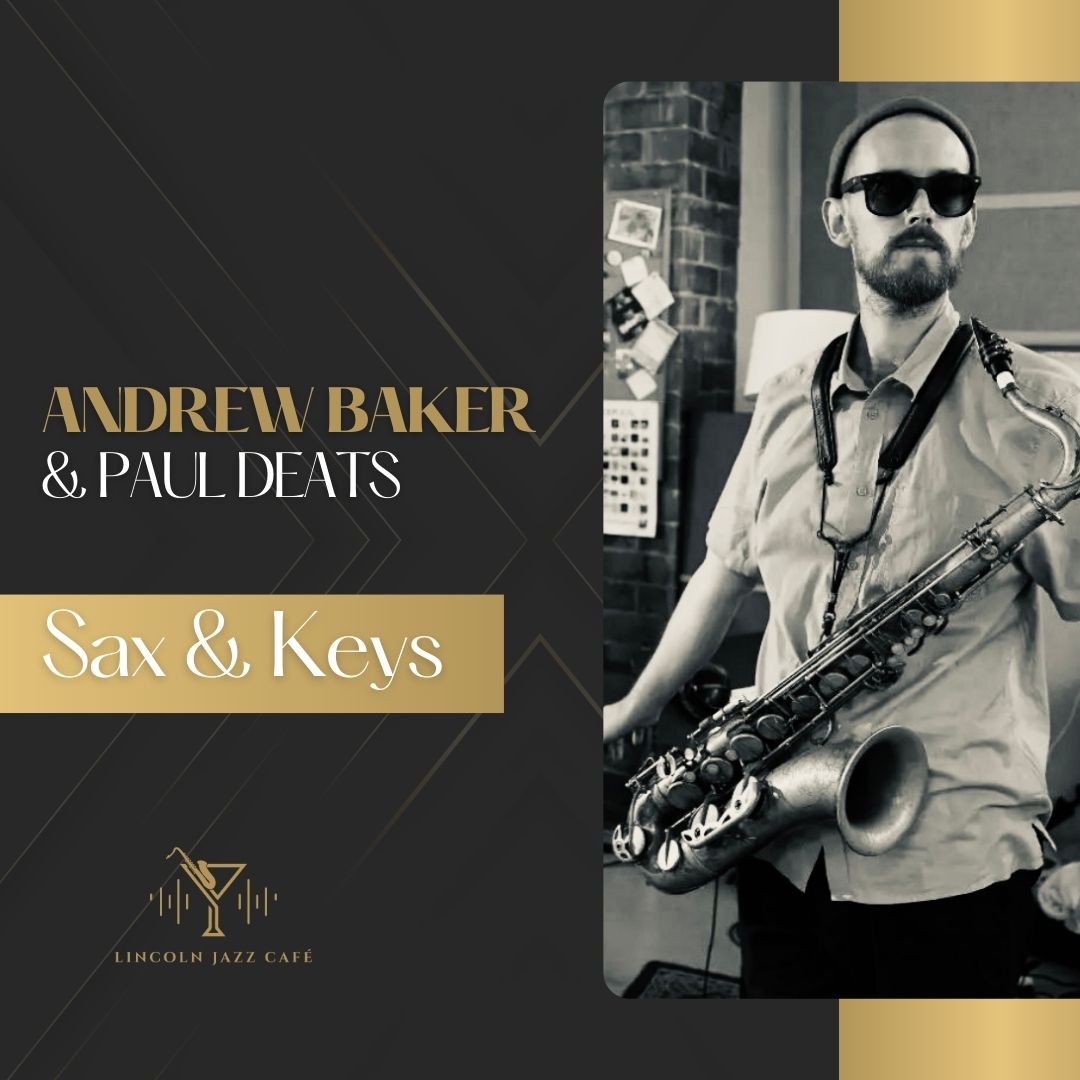 Andrew Baker / Paul Deats
Join us for a captivating evening of soulful melodies and rhythmic improvisation as Andrew Baker and Paul Deats take the stage in an intimate concert in the heart of Lincoln. With their extraordinary talent and deep passion for music, this duo promises to deliver a mesmerizing performance that will leave you spellbound.
Andrew Baker, a virtuoso on the tenor saxophone, possesses an unparalleled ability to captivate audiences with his exquisite improvisations. His musicality knows no bounds as he effortlessly weaves intricate melodies and harmonies, painting a vivid musical landscape. Andrew's performances are characterized by his unique blend of technical mastery and emotional expression, creating an immersive experience for all who listen.
Paul Deats, a masterful pianist and keyboardist, complements Andrew's saxophone with his exceptional talent. With his skilful hands gliding across the keys, Paul creates lush harmonic textures, providing a solid foundation for their musical explorations.
Together, Andrew Baker and Paul Deats form a dynamic duo that effortlessly bridges the gap between jazz standards and original compositions. Their synergy on stage is palpable as they engage in a musical dialogue, pushing boundaries and exploring new territories. Each performance is an invitation to embark on a sonic journey, where the familiar and the unexpected intertwine, leaving the audience in awe.
Don't miss this extraordinary evening of jazz excellence as Andrew Baker and Paul Deats transport you to a world of musical enchantment. Experience the magic of their jazz standards and be among the first to discover their captivating original compositions. This intimate concert promises to be a memorable event that will leave a lasting impression on all who attend.
Save the date: Sunday, 2nd July 2023, 6-8.15 pm. Doors open at 5 pm. Please arrive by 5.30 pm.
AT CHECKOUT:
Experience the ultimate convenience at checkout with the ability to add our delectable ANTIPASTI PLATTERS, supplied by our esteemed partner in bespoke catering. Indulge in locally sourced and homemade food, crafted with the freshest ingredients and beautifully presented.
Don't forget to PRE-ORDER your Fine Wine and Champagne selections at checkout to enjoy a delightful 10% DISCOUNT, perfectly complementing our Antipasti platters. Make your event truly special with these premium options.
Ensure you pre-order your desired Antipasti platters, Fine Wine, and Champagne AT LEAST 48 HOURS PRIOR to your event. Happy shopping and let us provide you with an unforgettable experience!