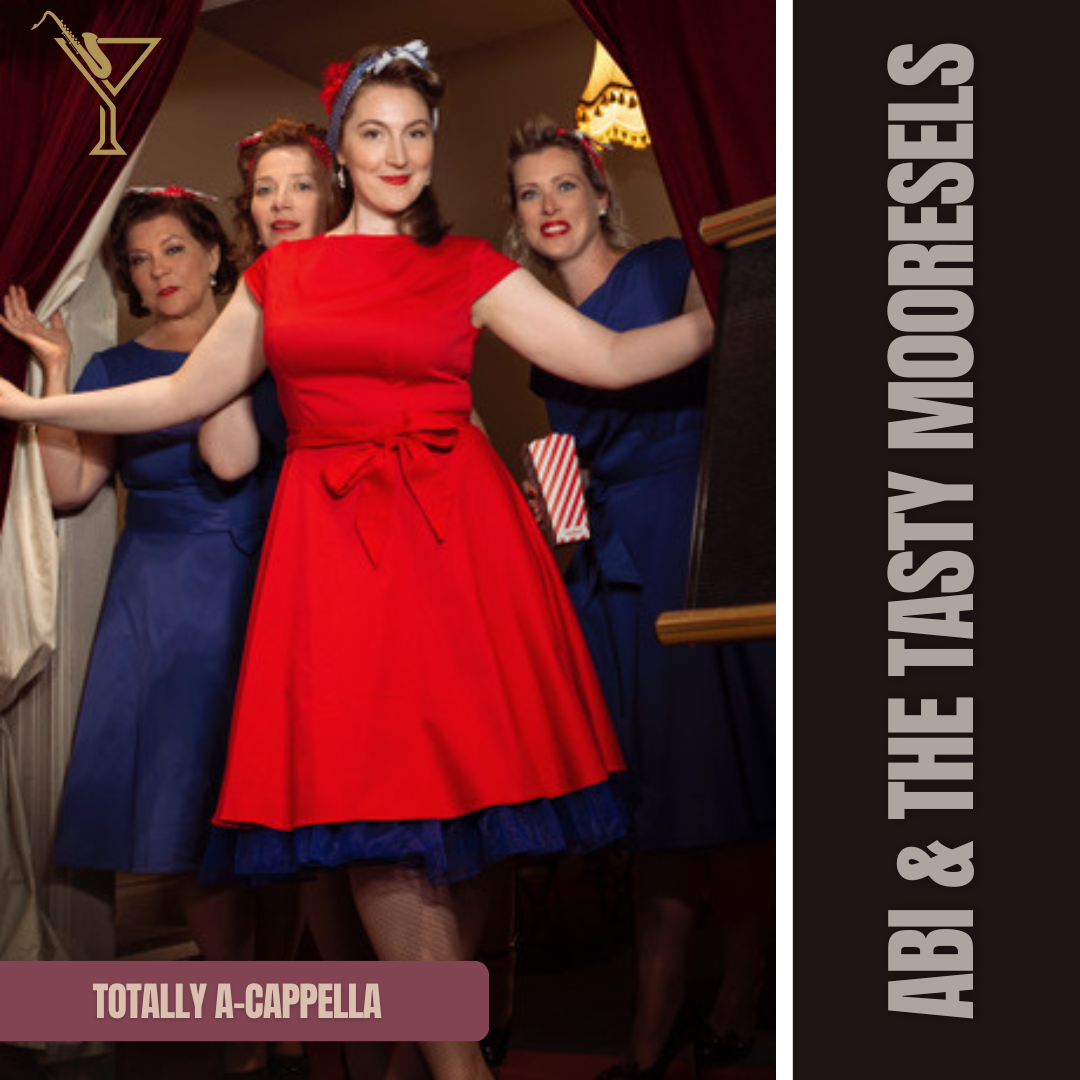 Abi & The Tasty Mooresels – Sun, 5th Nov – Guy Fawkes Day Special
Abi & The Tasty Mooresels is the only vintage, close-harmony, all-female group in the East Midlands performing TOTALLY A-CAPPELLA!
That means no need for backing tracks, bands or instrumental accompaniment:  the girls use only their voices, ears and natural timing… and no-one does it like they do!
Abi and her 'Tasty Mooresels' perform the best retro swing, jazz, blues and rock'n'roll classics from the 1930s, 40s, 50s & 60s in completely unaccompanied, glorious vocal harmony.
Complete with cute choreographies, bouncin' basslines, heavenly harmonies, and appealing attitude, they'll bring you the best sounds of the era to put a smile on your face and get your toes a-tappin!'
Expect your favourite songs from Judy Garland, the Andrews Sisters, Duke Ellington, Ray Charles, Elvis Presley, Ella Fitzgerald and the Beach Boys in a-cappella harmony.
Save the date: Sunday, 5th November 2023, 6-8 pm. Doors open at 5 pm. Please arrive by 5.30 pm. (All tickets are non-refundable and non-exchangeable)
AT CHECKOUT:
Experience the ultimate convenience at checkout with the ability to add our delectable ANTIPASTI PLATTERS, supplied by our esteemed partner in bespoke catering. Indulge in locally sourced and homemade food, crafted with the freshest ingredients and beautifully presented.
Don't forget to PRE-ORDER your Fine Wine and Champagne selections at checkout to enjoy a delightful 10% DISCOUNT, perfectly complementing our Antipasti platters. Make your event truly special with these premium options.
Ensure you pre-order your desired Antipasti platters, Fine Wine, and Champagne AT LEAST 48 HOURS PRIOR to your event. Happy shopping and let us provide you with an unforgettable experience!
Sold out!